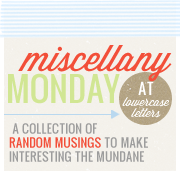 As you know, I've been in a bit of a funk lately. I thought I'd start of the new week right with a few randoms...
1. Right now my husband is making us some mango smoothies.
Ingredients:
two mangos, orange pineapple juice ["some" is the measurement my husband told me], ice [we're trying it with strawberries tonight...we'll see how it goes]
Directions:
Figure out how to cut a mango. This
site
helps.
Put mango, some juice, ice in a blender.
Blend.
Enjoy.
"Mmmm mango. Where have you been all my life?" -Kyle
2. We brought back bikes from Ohio last month and I am loving it! My bike is a pretty yellow Schwinn. What she really needs, though, is a bell and a basket. I'm thinking of trying to make one like
this
.
3. Apparently I forgot to fill up the ice trays as Kyle just told me "uh oh, all the ice trays are in here naked." Luckily we live in a residence hall with an ice machine. Saved!
4. Lately I've been a little bit down, little bit crabby, little bit mean and I'm hoping that this week I'm much more cheery. Because there really is so much to cheer about!