Happy (almost) Saturday everyone!

First, I wanted to gauge your interest in an Along for the Ride vlog. I'd love to answer any questions you might have! I've been enjoying watching some vlogs lately and would love to give it a shot.

Feel free to comment with questions. You can also email them directly.

***
You know what this weekend is? It's my 52nd party! Which means you've been linking up for a year (give or take those weekends I missed).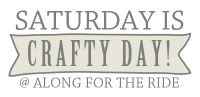 Here are just a few fabulous things that you linked up last weekend.
Blue "Mason" jars brom Sweetwater Baby
Now it's your turn!