Happy Friday (and halloween weekend!)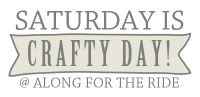 You all were busy last week. I loved looking at your projects!
A few favorites:
Vintage table from Embracing Change
Feel free to grab my featured button.
And have you heard? Tomorrow starting at 8am, I will be hosting my 2-year blog anniversary giveaway day! Over 30 giveaways and over $600 worth of prizes! I hope to see you there.