I'm so excited to share this with you! There are a zillion linky parties out in bloggy land (and I think I participate in half a zillion) and I wanted to throw my hat in the ring, too. On Saturday April 24th I will be launching "Saturday is Crafty Day @ along for the ride!"
I am so excited and would like to invite all of you to participate.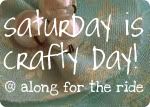 Saturdays are the days I look forward to most. The hubby works all day, and, as a major introvert, I love having the whole day, just me and kitty, to clean, cook...and craft!
So if you're anything like me and just love to be crafty and creative on the weekend, I'd love it if you linked up! Anything crafty, creative, and original will do, even if you didn't make it on a Saturday :)
I'd also love it if you would grab the Crafty Saturday button and spread the word. If you help me out you will either be entered to win a pearl and ribbon necklace or I will advertise your shop/blog/what have you on my side bar (for free!) for a month. Just leave me a comment letting me know you did. Sound like a plan!?