And by that, I mean things look amazing!
The talented Olivia from
Robin Blogs
contacted me with a great idea for a new blog design. With only a few minor recommendations, she had a design that was just perfect for me!
The greens and yellows.
The vintage bike.
The simple and clean look.
My bible verse.
Perfection.
I have been so nervous to work with a blog designer. I was afraid that we would go around forever and I wouldn't be happy with the final product.
Every time I open my new beautiful blog, I can't help but smile. It's just such a happy design!
Olivia was friendly, professional, and super fast. We decided on a design and it was up and ready in just a few days.
Robin Blogs
features some great DIY blog tutorials as well.
You can also find some of her other blog designs.
Just lovely!
Robin Blogs offers a lot of great package options bound to fit into your budget.
She features seven packages ranging from $15 to $50. For those of us bloggers who are rather indecisive, she offers a fabulous Spontaneous Package. You give Olivia the basic feel that you're looking for and she surprises you with a beautiful new blog!
If you're just looking for a few items, Robin Blogs offers a la carte items at a really reasonable price. This would be perfect if you're planning a blog event and you're looking for a special button to go along.
Did you see my new button?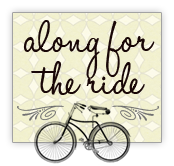 Too cute!
And if I wasn't happy enough with my own blog design, I am so happy that Robin Blogs is offering one lucky reader a $35 gift certificate! That would purchase her most popular package (the indulgent blogger), lots of a la carte items, or can be used toward a larger package.
Want to enter?
Hop on over to
Robin Blogs
and take a peak around. How would you use your $35?
Giveaway will end Monday March 4th.
***