Hey, look who's back!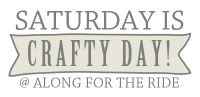 Thanks for being patient while I took a little summer break. But now that summer's almost over, fall's almost here, and my hubby's back working weekends... it's time for more crafty Saturdays!
Since I don't have folks to feature yet, I thought I'd show you a few of my favorite projects from pinterest land to get the juices flowing.
Above photos and projects can be found
here
.
What have you been working on?