Welcome to another weekend!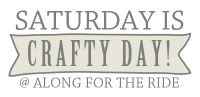 I won't be doing too much crafting this Saturday. Instead, I'll be cleaning up from last weekend's craft fair! I can't wait to get my craft room back in order.
Every week I'm so impressed by all your projects. Here are just a few of my favorites.
Desk makeover from Five Foot Twelve Creations
[feel free to take my featured button, ladies.]
What have you been up to?!