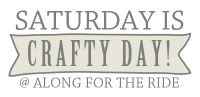 I've been thinking long and hard about my Crafty Saturdays, and unfortunately with my busy schedule these days, it's been hard for me to keep up.
So, even though it makes me sad, I've decided to discontinue Saturday is Crafty Day.
But, there are so many amazing craft parties out there that you should link your amazing projects too (and trust me, they're always amazing!!).
Below is a list of that I've kept. I haven't checked them recently, so forgive me if there a few parties that no longer happen.